Performances at TOP of KRC models Motorcycle driving experience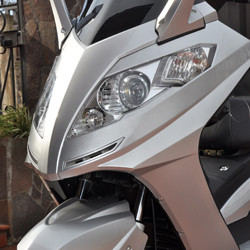 The easy 'driving was inspiring the name EASY.
The battery pack mounted in a rigid steel frame, in a well centered and slightly lowered give the feeling of maximum maneuverability and stability.
The particular configuration of lithium battery fitted to this model, with significantly reduced weight and volume compared to the competitors, make the EASY scooter suitable for road urban and suburban.
The battery pack, increased in power and voltage, as above-average performance, with a range greater than any other electric vehicle on the market.
The aesthetics and performance in terms of speed 'and autonomy, make EASY suitable for users passionate and even for users with less experience.
The professional with suit and tie can make the best impression of himself and of his ECO-SCOOTER .
He will find also satisfied by low consumption and exciting performance.
You find always the class of a scooter that flies like the wind and, like the wind, it makes a whistling sound while in a few moments reaches speeds of other vehicles burning reached only with stress, noise, high fuel consumption and especially polluted.
EASY delivers the performance of a real motorcycle or biggest maxiscooter in terms of stability and maneuverability. The suspension and braking system are of high quality and make the driving experience simply exciting.
Brushless motor, wear-free and with virtually ZERO maintenance , ZERO as are emissions.
Redesigned and completely new.
With flywheel inside to soften the standing start.
Style and practicality
Innovative styling, complete and high comfort.
The look young and attractive do not mind to drivers with age between 14 and 18 years, and it is well suited to the attention of the professional driver who wishes to conduct its business enjoining.
EASY is the affirmation of an original style, with new forms, with elegant surface treatment and coating with well-defined lines.
It offers a high level of protection from the wind and a relaxed riding position and comfortable.
Much appreciated is the reverse function, which, during the stationery operations creates the envy of everyone, but especially avoid difficult situations and tiring.
Driving EASY increases the class and style of those who guide, gives a feeling of lightness, relaxation and power by raising the maximum driving pleasure.